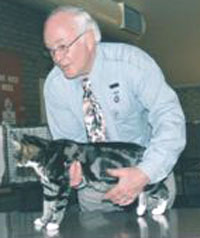 I have been a Companion Cat Judge since 2000 and really enjoy judging this group.
In 1983 I began showing two Burmese cats, originally purchased as pets and in that year one of them – Amaryllis Meggie won RAS Shorthair Spay Cat of the Year.
So started my involvement in cat showing and breeding, and a little later Show Management and Club Administration. 
Whilst I have specialized in Burmese and more recently in Maine Coons, my experience as a Show Steward since 1986 has given me a good appreciation of all breeds.
I firmly believe that good health and temperament are essential to making a good pet as well as a good show cat.
This was my prime motivation in becoming a Companion Cat Judge where cleanliness, condition, appearance, and temperament are the key judging criteria.