Groups 1, 2 & 3 (All Breeds Judge)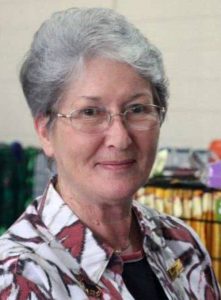 I bred Burmese with the prefix AURORA for about 22 years. I have been an Allbreeds Judge for approximately 20 years now living in NSW and trained as an All Shorthair Judge as a member of QFA Inc. Barbara La Rocca, Liz Haimes (dec'd) and Geoff Dumigan (dec'd) were my tutors.
I obtained my Longhair Licence when a member of QICC Inc. and Gary and Heather Brown were my tutors.
Due to family commitments I no longer breed cats, but I do love judging them and getting kitten cuddles. My beloved Blue Burmese Aurora Elusive Blue lived to the age of 21 years and her half brother is 14 years old now.
I have enjoyed some success with my Burmese both in Australia and overseas and many Aurora descendants are still proving themselves on the show bench and breeding quality kittens worldwide. ie; Canada, Europe, Russia, Norway, New Zealand and South Africa.
I love receiving photographs from all over the world showing me how the Burmese are progressing. I have managed shows, been President of The Burmese Cat Society of Qld for years, have been a Registrar and Secretary at affiliate 
level in Qld.
I joined the Gold Coast Cat Club before I started breeding and was a secretary for the club many years ago. In 2009 several QFA breeders and I ran an online Cat Show fundraising for Native Wildlife injured and displaced by Victoria's worst bushfires. It showed how cat breeders do care for wildlife.
These days I spend time creating Feline PowerPoint presentations for educational use to train student judges and as a refresher for judges worldwide. I also do oil paintings of landscapes, wild cats and seas and I enjoy my garden.
I have been fortunate to judge in all states of Australia and the Northern Territory as well as in New Zealand.
Assignments:
Australia -All States including Northern Territory, New Zealand