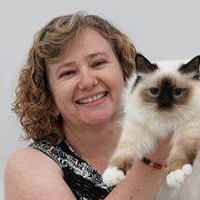 I have been a cat lover for most of my life but have only been involved with the cat fancy for a relatively short amount of time.

I started out breeding and showing Birmans in 2014. In 2016 I took up an opportunity to train as a Steward/Ring clerk with the Queensland Feline Association as a way of giving back at shows.

I later started the Borderline Cat Club and have been the club President and Show Manager for a number of years.



I started training as a Group 1 Judge with Cats NSW and have just recently qualified.
This is an exciting new adventure and I'm looking forward to applying what I have learnt.

Outside of the cat fancy, I keep busy lecturing at University and assisting my partner with his cabinet making business.

I also teach faceting at my local gem club.
Airport: Coolangatta (QLD)
Cats NSW is proudly sponsored by
© This website and all content is subject to copyright – CATSNSW 2020