Groups 1, 2 & 3 (All Breeds Judge)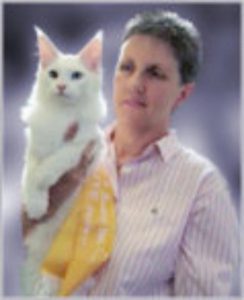 I have bred Siamese, Orientals, Foreign Whites, Burmese, Devon Rex, Scottish Folds and even a litter of Abyssinians under the Fioric prefix over the past 26 years.
I have been a regular exhibitor for over 25 years and have exhibited in most parts of NSW and occasionally interstate.
My first Maine Coon litter was born in 1999 and I've bred these amazing felines since then under the CoolCoons prefix. I've imported several of these cats from the UK, Norway, the USA and quite a few from New Zealand.
I have enjoyed considerable show success with CoolCoons cats and kittens having won many Best Group 1 Exhibit and Supreme All Breeds Exhibit in Show awards as well as NSW CFA Kitten and Cat of the Year Awards. 
I've owned and/or bred Cat or Kitten of the Year in all 3 Groups with NSW CFA since I first began exhibiting.
I gained my Group 3 judges licence in 1999, followed by Group 2 in 2003 and I completed my Group 1 training in 2008 and have enjoyed judging in most states of Australia, in New Zealand and South Africa and transferred all those licences in 2013 to CATS NSW.
Assignments:
Australia, New Zealand, South Africa & China