Groups 1, 2 & 3 (All Breeds Judge)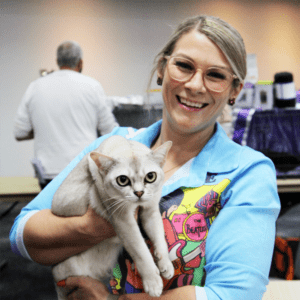 I have been owned by a Siamese cat my entire life and my Mother told me that my first word was "cat". 
With this sort of upbringing, my love for felines was inevitable and in 1999, at the age of 12 I was allowed to have my own cat; a Lilac Point Siamese spay and my show career started.
My involvement in cat shows has come a long way since that first show in October 1999. 
In 2007 I registered my prefix 'Ayudha' and began breeding Siamese and now I have a ventured out to breeding Siamese, Oriental, Devon Rex and even a Tonkinese litter.
As an exhibitor I have had many successes with my Siamese and Orientals, winning several Best Group 2 Exhibits in show. 
In 2009 I realised that just being an Exhibitor was not enough for me and became a Steward.
Since then I have joined several Affiliate clubs and became part of numerous Show Committees in many different roles, experiencing Show Manager for the first time in 2014.
In 2015 I completed my Shorthair Judges training and commenced training for Groups 2 and 3.
In June 2021 achieved one of my lifelong dreams and became an All Breeds Judge.
I have a Bachelor of Arts and Diploma of Education from Macquarie University and work as a History/English teacher in High School, my other passion.